WIFSS Food Safety in Headlines
Chris Brunner, February 6, 2014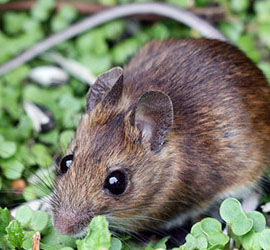 WIFSS director Rob Atwill and graduate student, Christopher Kilonzo, are front and center on UC Davis's homepage.  Atwill and Kilonzo take a One Health approach when studying the pathogens responsible for numerous foodborne outbreaks that have resulted in illness, death and considerable economic losses.
As an example of this One Health approach, Kilonzo and other UC Davis researchers recently completed a study of wild rodents inhabiting farms in the Central California Coast. Kilonzo was interested in finding out whether wild rodents inhabiting farms in the Central California Coast shed foodborne disease causing microorganisms in the their feces. They investigated the difference location of the wild rodent, abundance and age,  type of farming activity and  time of the year has in the prevalence of E. coli O157:H7, Salmonella, Cryptospordium and Giardia in rodent fecal material.
In short, are the wild rodents living in close proximity to produce fields carrying deadly pathogens that could end up on our family's dinner plate?
The research found that wild rodents inhabiting agricultural farms shed zoonotic foodborne pathogens including E. coli O157:H7, Salmonella serovars, Cryptosporidium oocysts and Giardia cysts in their feces. Rodents with access to produce fields can defecate and potentially transfer the microbes onto agricultural commodities.
Kilonzo says "We now have a better understanding of the role played by rodents in the epidemiology and ecology of foodborne pathogens. Through engaging in control practices that promote environmental stewardship, we can promote public health and encourage environmental and wildlife conservation efforts."
Click here to read Fecal Shedding of Zoonotic Food-Borne Pathogens by Wild Rodents in a Major Agricultural Region of the Central California Coast.
Read full UC Davis story Improving Food Safety.