Global One Health Research Partnership meeting in New Zealand 2023
by Chris Brunner  |  April 20, 2023

Representatives from the Global One Health Research Partnership, (GOHRP), linking Massey University, Wageningen University and Research, University of California Davis, and Nanjing Agricultural University, attended a four-day program sponsored by Massey University March 14-17, 2023.
The program sponsored by Te Kunenga ki Pūrehuroa Massey University, and coordinated by GOHRP member Joanna McKenzie, specialist in One Health Epidemiology, and International Development in the mEpiLab, in the School of Veterinary Science at Massey, brought together Massey University's One Health researchers with international partners, government scientists and the Aotearoa New Zealand One Health research community to leverage their respective expertise, relationships, and geographic distribution to implement collaborative research and capacity building that addresses global One Health issues.
Attending the Global One Health Research Symposium – Identifying Global One Health Research Priorities from UC Davis were Bennie I. Osburn, Richard Van Vleck Pereira and Adriana Garzon Audor.
Bennie Osburn, Dean Emeritus of the School of Veterinary Medicine, and Director of Outreach and Training with the Western Institute for Food Safety and Security and a founding member of GOHRP, addressed the group on the topic One Health research and capacity building at UCD. He also gave a lecture on the role of plants in the transmission of pathogens.  His remarks caught the attention of many as they had not really thought of pathogens that had been taken up by plants as a potential transport of pathogens causing human and animal infections.
Richard Van Vleck Pereira, Associate Professor and Associate Agronomist in the School of Veterinary Medicine Department of Population Health and Reproduction and Adriana Garzon Audor, a graduate student in PHR, talked about AMR research involving isolates from dairy cattle with metritis and mastitis.
The first day of the program, March 14, was held at Te Papa Tongarewa Museum of New Zealand in Wellington, where attendees heard from a range of keynote speakers including visiting scientists and researchers, the Office of the Prime Minister's Chief Science Advisor, senior scientists from the Ministry of Health, Ministry for Primary Industries, and the Ministry of Environment and leading One Health researchers.
From 15 – 17 March, the program continued with a symposium at Massey University's Manawatū campus in Palmerston North, where Massey researchers and international visitors shared their research work, showcased their expertise, exchanged ideas, and identified opportunities for joint research and capacity projects.
Provost Professor Giselle Byrnes, opened the symposium, explaining the priority of the four-day program to work collaboratively with research partners to share ideas and develop research proposals that will help address some of the global health issues the world is facing.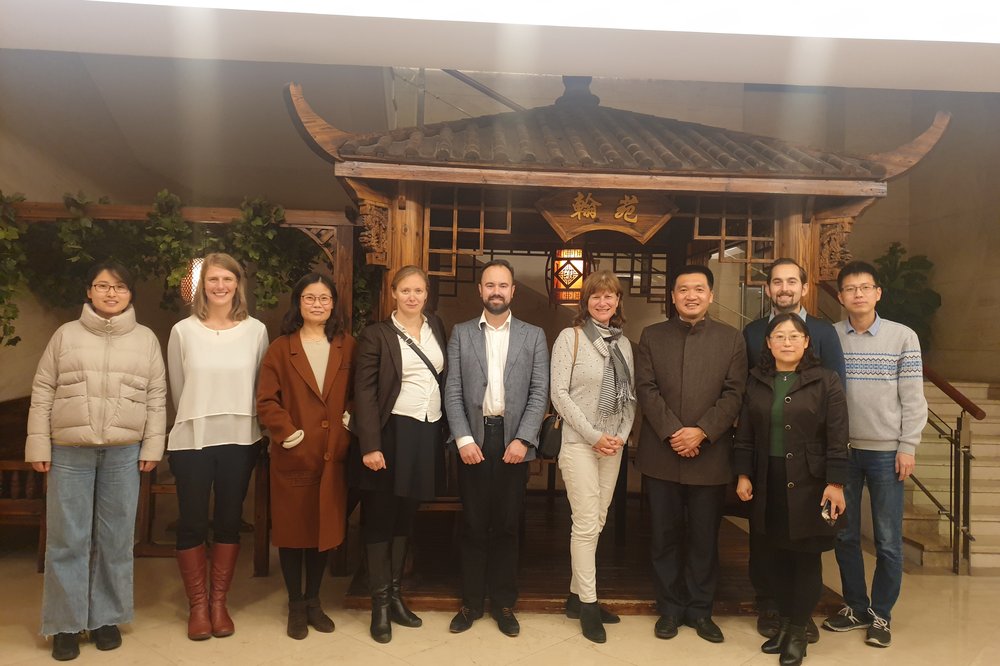 Leading to the 2023 GOHRP meeting
Universities from around the world came together in Wageningen, Netherlands to plot a course for food safety at the "2018 Global One Health Research, The Future" international symposium. Following the symposium representatives from Massey, Wageningen, UC Davis, and Nanjing, met to discuss future directions of sharing research outcomes and building future research programs.  The group identified antibiotic resistance as the food safety issue to be addressed at the first official GOHRP meeting held in 2019 at Nanjing Agricultural University.
Antimicrobial Resistance (AMR) is one of the top issues relating to One Health on a global scale.  It is emphasized by the World Health Organization, (WHO), the UN's Food and Agricultural Organization, (FAO), and the World Organization for Animal Health, (WOAH/OIE).  The unique study of the GOHRP researchers comparing AMR patterns in isolates from dairy cattle from four different parts of the world will be novel and instructive.
The March 2023 meeting in New Zealand marked the first time in three years the researchers were able to interface in person to discuss findings that they were able to conduct during the reduced time and effort in their laboratories under the restrictions of the COVID pandemic.
The next steps
The Global One Health Research Partnership will meet again in person at Wageningen University and Research in 2024 to further discuss their AMR research findings, with the end goal of a published paper in a scientific journal. Included in the discussions at Wageningen will be the topic of capacity building to address One Health issues. The emphasis is to establish graduate programs with a One Health focus which in turn will build the overall One Health effort for addressing such complex health issues as AMR.  The next generation which will include a bright and enthusiastic multi-disciplinary academic and vocational work force is essential to tackling complex issues that interface at the soil, plants, people, animals, and the environment level such as AMR.
Osburn looks forward to the meeting at Wageningen University Research and says, "We are now on track to demonstrate the power of collaborative studies on antibiotic resistance and address other complex One Health problems."