Michael Payne – January 26, 2021
The National Weather Service in Sacramento has issued flash flood watch for portions of counties affected by the LNU complex fire last year. Included are portions of Amador, El Dorado, Placer, Solano, Sutter and Yolo counties. The heaviest rainfall is expected Tuesday night through Wednesday morning January 26-27, 2021. In addition to causing flash floods, the 2 to 4 inches of rain forecast is particularly concerning because much of it will fall on the burn scar of the LUN Lighting Complex of 2020, which could lead to mud slides and debris flows. Below find more information on how livestock owners can prepare and respond to flooding.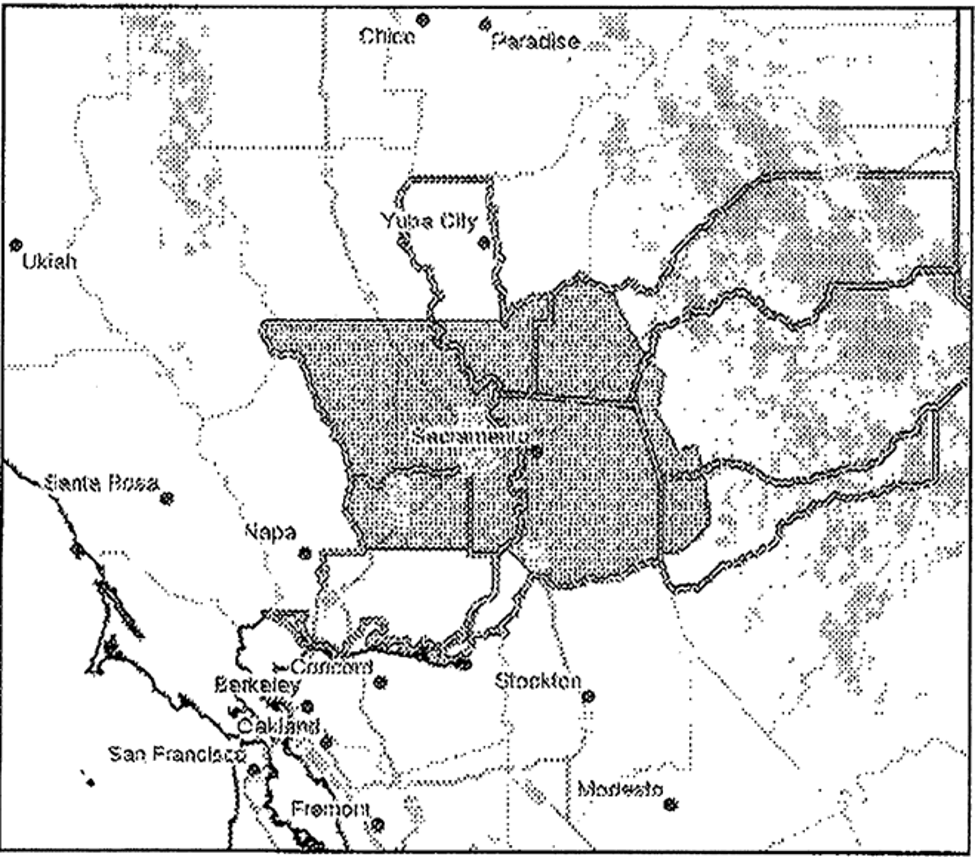 The Western Institute for Food Safety and Security (WIFSS) at the University of California, Davis' School of Veterinary Medicine has more than a decade of experience partnering with FEMA and the Department of Homeland Security to train and prepare emergency responders, veterinarians, food producers, and emergency planners in rural communities for responding to natural disasters and disease outbreaks. With Hurricane Irma gaining speed, we have resources to help you prepare your big and small animals for evacuation.
Bring your pets
For pet owners, one single lifesaving message dwarfs all others: evacuate early and bring your pets with you. The innumerable pet causalities caused by Hurricane Katrina were the catalyst that led to the federal PETS Act, which ensures that emergency planners and responders provide for evacuation and sheltering not only of people, but their pets as well. Pet owners can find a wealth of evacuation information in the American Veterinary Medical Association's Saving the Whole Family program and FEMA outreach.
Livestock and equine preparations
To help prepare farm and ranch owners for anticipated flooding, WIFSS developed pamphlets for livestock owners and horse owners. Designed as Just-In-Time resources, these pamphlets provide information for farmers and ranchers on how to prepare, respond, and recover from flooding, and include topics such as, how to access your FEMA flood map, evacuation checklists, disaster relief grants, and more.
Dairy herd preparations
Recognizing the particular difficulties facing dairy farmers, WIFSS partnered with the California Dairy Quality Assurance Program (CDQAP) to develop information for dairy producers facing flooding. The dairy flood web-page includes disaster plan templates, checklists for the evacuating dairy and the hosting dairy, a step-by-step list for recovering from a flood event, and more.
Training for future disasters
WIFSS has partnered with state and federal agencies to develop training for veterinarians and first responders related to animals in disasters. Two new FEMA-approved course offerings include an awareness course (AWR 328) and a management course (MGT 448).
The awareness course (AWR 328) provides first responders with the tools to protect, respond to, and recover from the consequences of natural disasters. Blending online instruction with instructor-led training, this course introduces participants to the unique issues that must be considered and addressed when animals are involved in an emergency.
Our management course (MGT 448) provides emergency planners, law enforcement, animal control personnel, community leaders, veterinarians, and public health agencies with the background information needed to participate in the development of a disaster response plan for their community. The instructor-led course includes interesting multimedia presentations, lively discussions, and relevant case studies to explore animal-related disasters.
Eventually floodwaters recede and the fires are extinguished, but disaster planning and coordination will always be critically important. For more information contact Dr. Michael Payne.