Role of Scent Detection Dogs in Outbreak Investigations
Chris Brunner, March 27, 2014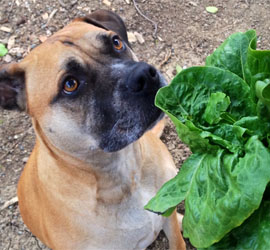 The need for more effective approaches to detect fecal contamination of produce has never been more critical.  A Western Institute for Food Safety and Security study may provide investigators with an added tool during outbreak investigations. In addition to boots on the ground there could be paws on the ground in future investigations.
"Trained dogs have the potential to play an important role in foodborne outbreak investigations and pre-harvest detection," according to Missy Partyka and Ronny Bond, investigators in the WIFSS scent detection dog study.
As consumer demand for raw agricultural commodities increases the growth and production of raw produce also increases, along with the chance for foodborne outbreaks.  Foodborne pathogens associated with fecal materials carry contaminants such as Escherichia coli O157:H7, Salmonella, and Listeria.
Studies from the CDC and the U.S. Food and Drug Administration report approximately 131 outbreaks of foodborne illness were associated with fresh produce commodities between 1996 and 2010, and of these outbreaks 13 were linked to tomatoes and 24 were linked to leafy greens such as lettuce and spinach.
It is impossible for investigators or growers to test every piece of produce, but a trained dog may be useful for prioritizing which pieces of produce should be tested first.  "This would greatly increase efficiency during outbreak investigations and possibly reduce the length of an outbreak," says Partyka.
Partyka a staff research associate and graduate student, and Bond a water quality researcher, can often be found conducting research into the transmission of waterborne pathogens to humans in landscapes as diverse as California's high sierra, the lettuce fields in the Salinas Valley, the Northern California coastline, or the Imperial Valley, often with their dog Lady Jane by their side.
In this study, Partyka and Bond conducted a series of trials to characterize the sensitivity and specificity of scent detection service dogs to accurately identify fecal contamination on raw agricultural commodities (romaine lettuce, spinach, cilantro, and roma tomatoes).
Zero, Buster and Uno, trained scent dogs, helped in the trials.  The study found that even at low prevalences of contamination in a field, a trained dog is 5 to 30 times more likely to find a contaminated piece of produce than a human picking produce at random.  Scent detection dogs could be more accurate than an investigator standing in a field of lettuce trying to determine which head to sample.
"The true value of the dogs might be in finding the proverbial needle in the haystack," believes Partyka.
To read more, see abstract, "Quantifying the Sensitivity of Scent Detection Dogs to Identify Fecal Contamination on Raw Produce."