Study Shows Prevalence of Listeria, Salmonella and E. coli in Pet Food
Chris Brunner, September 9, 2014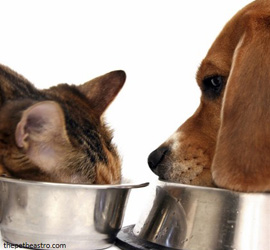 The study conducted by the Veterinary Laboratory Investigation and Response Network (Vet-LIRN), with the Food Emergency Response Network (FERN) and its Microbiology Cooperative Agreement Program (MCAP) evaluated the prevalence of selected microbial organisms in various types of pet foods. The study also increased the FERN laboratories' screening capabilities for foodborne pathogens. Foodborne pathogens in certain pet foods may be a significant health risk to consumers.
Results of this study showed that some raw pet foods harbored food safety pathogens, such as Listeria monocytogenes, Salmonella, and non-O157 Shiga toxin-producing E. coli.
More than 1,000 samples of various pet foods were analyzed during 2010-2012.  Dry and semimoist dog and cat foods purchased from local stores were tested during Phase 1. Exotic animal feed, jerky-type treats, and raw dog and cat foods purchased through the internet were analyzed during Phase 2.
In Phase 1 only 2 samples from the 480 dry and semimoist samples tested positive:  1 for Salmonella and 1 for Listeria greyii.  However in Phase 2, of the 576 samples analyzed, 66 samples tested positive for Listeria (32 of those were Listeria monocytogenes) and 15 samples were positive for Salmonella. No pathogens were isolated from the exotic animal dry feeds. No canned or wet pet foods were collected as part of this project.
Foodborne illness outbreaks in humans have been linked to various pet foods in the past.  In 2012 a multistate outbreak of human Salmonella Infantis infections were linked to dry dog food.  A total of 49 individuals (47 individuals in 20 states and two individuals in Canada) were infected in the outbreak, 10 people were hospitalized, no deaths were reported.  Many recalls of pet food having a presence of Salmonella and Listeria monocytogenes have been reported in the past several years.
The bottom line – consumers should be aware that just like when handling their own foods that are raw, safety precautions should be used when handling raw pet foods.  Keep the raw food separate from other foods. Thoroughly wash hands and disinfect working surfaces and utensils that come into contact with raw pet food to reduce chances for exposure to foodborne pathogens.