Veterinary Medicine Improving Global Health
Chris Brunner, July 8, 2014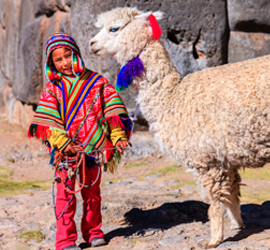 A recent op-ed in The Lancet Global Health stressed the increasingly important role that veterinary medicine will play in global health and food security.  Authors, Alan Kelly, Bennie Osburn and Mo Salman, say that three of the five proposed goals of the United Nations' high-level panel Post-2015 Development Agenda are unattainable without effective animal health services.  Veterinary medicine can play a role in ending extreme poverty; building sustainable social, economic, and environmental development; and forging of a new global partnership.
The absence of competent veterinary services in low-income and middle-income countries is cause for alarm. The emergence and transmission of zoonotic diseases from wildlife has been growing steadily over the past two decades. Not only is wildlife a concern, but the expansion in food animal populations is associated with the emergence and spread of many human infections.  For example, brucellosis, tuberculosis, cysticercosis, Q-fever, and others, are diseases found in livestock that can be transmitted to humans, causing debilitating and chronic infections.
Co-author, Dr. Bennie I. Osburn, Director of Outreach at the Western Institute for Food Safety and Security, and Emeritus Dean of the School of Veterinary Medicine at UC Davis, further explains that, "Foodborne illnesses that have a common origin in wildlife and domestic animals must be controlled to overcome the chronic diseases and malnutrition of populations in low-income and middle-income countries."
Osburn sees veterinary medicine playing an important role in reducing the number of chronic infections in livestock, thereby significantly decreasing the number of foodborne diseases in humans.  He says the big picture is one of "healthier livestock and healthier humans; leading to the productivity and profitability of livestock and the alleviation of poverty."
Read more about veterinary medicine's increasing role in global health in The Lancet Global Health.