Western Food Safety Summit
Chris Brunner, May 19, 2014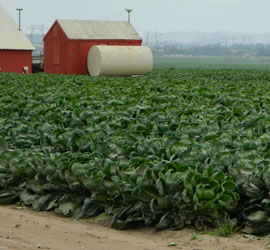 A two-day summit on responsible leadership in food safety brought the most current information and research regarding the Food Safety Modernization Act (FSMA) to the Salinas Valley agriculture community during the ninth Western Food Safety Summit. The summit held at Hartnell College included topics on training requirements for FSMA, risk analysis programs, FDA investigations, legal consequences, treatment and irrigation water, foodborne investigation, and organic standards.
David Goldenberg, Acting Program Manager, Preparedness Training at the Western Institute for Food Safety and Security (WIFSS), gave two presentations on "A Quick Guide to FDA Investigator Skills."  Goldenberg discussed potential pathways of pathogen contamination during the pre-harvest, harvest and post-harvest process that could lead to foodborne illness outbreaks. His "St Patrick's Day Revenge Table Top Exercise" pulled all the elements of conducting a farm investigation into a 40 minute mock traceback exercise which depicted cabbage harvesting, packing, irrigation, worker health and hygiene, and disposal practices.
Dr. Michele Jay-Russell, Program Manager of the Western Center for Food Safety and liaison to WIFSS, gave a presentation on her and co-investigator, Dr. George Vellidis's, poster, "Salmonella detection in farm ponds and irrigation distribution systems used for mixed produce production in southern Georgia." The purpose of the study was to assess the presence and concentration of Salmonella and indicator bacteria in irrigation water exiting different distribution systems on mixed produce. The findings from the pilot study suggest a low concentration of Salmonella moves through irrigation systems fed by farm ponds.