WIFSS Animals in Disasters Courses Piloted in Sonoma
Chris Brunner, September 25, 2014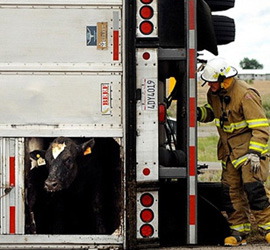 Without coordinated response, awareness and resources, those animals left behind in a natural or man-made disaster most often do not survive. The Western Institute for Food Safety and Security offers a series of Animals in Disasters courses that help prepare first responders and community members for animal related emergencies.
WIFSS instructors, Tracey Stevens, Deputy Director, Animals in Disasters Project, and Dr. Michael Payne, Dairy Outreach Coordinator, piloted two new Department of Homeland Security Animals in Disasters courses this summer in Sonoma, California.
Class participants in "Emergency Animal Sheltering: Veterinary Considerations" learned skills and knowledge on how to establish an emergency animal shelter, and how to safely shelter and reunify animals that have been displaced during a disaster. In the "First Responder Guidelines for All Hazards Large Animal Emergency Evacuation" class, emergency personnel were provided instruction on safe approaches to emergency evacuation of large animals.
First responders, county officials, animal services personnel, veterinarians and other individuals can look forward to the 2015 WIFSS Animals in Disaster Course series which, in addition to the two courses above, will include:
Guidelines for Establishing an Emergency Animal Shelter: Veterinary Considerations – CE approved
Loose Livestock, Injured Wildlife and Humane Euthanasia of Animals for First Responders
First Responder Guidelines for Equine Emergencies – Level 1
Veterinarian Integration into Multi-Agency Emergency Equine Rescue and Disaster Response – CE approved
View WIFSS Animals in Disaster for announcements of course dates and registration information.