Chris Brunner who has been with the School of Veterinary Medicine since 1990 is retiring effective February 29, 2020.  Ms. Brunner served in the Dean's office coordinating and assisting with many of the administrative activities under four deans. In 2012 she accepted a position at the Western Institute for Food Safety and Security where she assumed the role of "Communications and International Programs Coordinator." During her tenure at WIFSS she has led the charge to revamp the WIFSS website, and initiated Twitter and Facebook accounts to inform others about important research, outreach, training and educational activities.  She has penned stories for WIFSS breaking news and is a contributing author on food news from the UC Division of Agriculture and Natural Resources where she contributed such stories as "Honey bee health as a key to wellbeing of the species." During the last five years Ms. Brunner has played a major role in helping formulate and coordinate One Health for Food Safety and Animal Health educational conferences for more 400 undergraduate students from Nanjing Agricultural University, China and nearly 100 vocational faculty from six different provinces in China.  Her diligence in facilitating the programs and planning for field trip experiences has helped introduce undergraduate students and vocational faculty to knowledge of other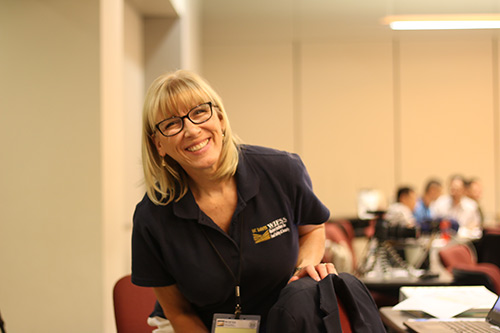 disciplines associated with One Health and provides opportunities for exposure to relevant knowledge of agriculture, animal husbandry, resources and environment related to life sciences.  This information has served to provide a more comprehensive reference for the student candidates future career goals, advanced degrees, or teaching strategies.  When undergraduate students complete the 3-week course they are committed to actively explore and find effective ways to solve problems through cooperation between different disciplines. The students are quick to acknowledge her nurturing role in their educational experience at UC Davis.  In addition, she continues to communicate with both students and vocational faculty through WeChat after their return to China.  Many students have gone on to advanced degree programs at universities throughout the world, and vocational faculty have modified their course deliveries to fit with the One Health concept.
Following her official retirement from the University she will come back to assist with the international program activities.  We at WIFSS are grateful for her untiring efforts in support of the mission of our organization.