New series of "Do you know" videos on the way
August 18, 2016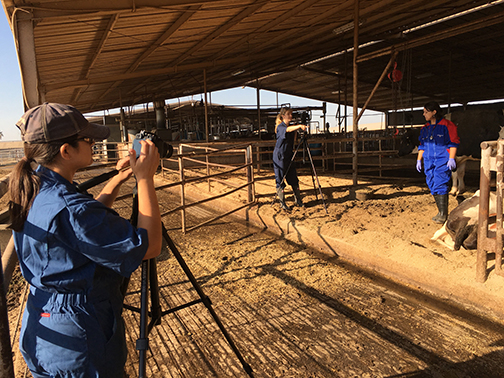 WIFSS training team members were decked out in coveralls this past week as they began production on another set of DeLaval training videos on location at a California dairy. The current series of videos will aid viewers in identifying milk fever and calf scours, and understanding the proper maintenance of dairy equipment. The videos, produced in partnership between WIFSS and DeLaval, demonstrate practices that dairy workers can easily implement into their routines to help safeguard milk quality and biosecurity. These concise and illustrative videos are a convenient resource for training workers when time is extremely limited.
Sara Garcia, a UC Davis graduate student in Integrative Pathobiology, near left in the photo, and Emily Kunz, a graphic designer and web developer from WIFSS, (far center) get the perfect angle during a video shoot for the DeLaval "Do You Know" video series. Heather Johnson, an instructional systems designer at WIFSS, the photographer for this photo, was on hand to direct the filming of this video. Also pictured is Marianna Gentilini, a research and technical specialist with DeLaval, who demonstrated how to diagnose milk fever in fresh dairy cows. Daniela Bruno, another DeLaval research and technical specialist with DeLaval, (not pictured) was also on set to help direct and the filming of this video.
The videos are expected to have a global impact as DeLaval research and technical service specialists make them available to the international dairy industry. DeLaval is proposing that the videos be translated into other languages for the next phase of this project.
Five of the DeLaval videos are available to view in the Dairy section of the WIFSS Training and Educational Materials page under Videos. More will be posted to this location by the end of 2016.