Gregory Wlasiuk and Chris Brunner – August 21, 2020
For years WIFSS has been holding successful conferences, bringing international students to UC Davis to experience the principles of One Health, the importance of teamwork and collaboration, and lectures from world-class faculty and specialists. Students from various fields of study have toured California's agriculture and gained first-hand knowledge of sustainable agricultural practices. However, when the uncertainty of the COVID pandemic struck, the future of these groundbreaking conferences fell into peril.
Luckily, WIFSS quickly adapted, shifting the entirety of the One Health for Food Systems Conference: Integrating Veterinary, Food, Animal, Agriculture, and Engineering Sciences online. At a time when the framework of One Health is more relevant than ever, the first fully online conference at WIFSS was a huge success.
Global participation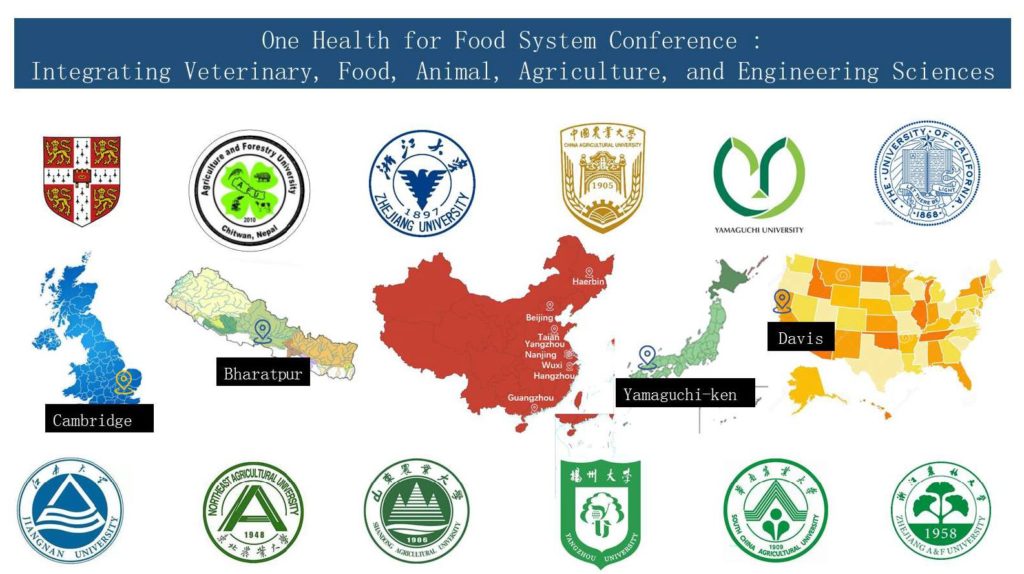 A total of 80 participants, including 31 graduate and 30 undergraduate students, and 19 professors attended the 2-week conference, July 20-31. Universities represented at the conference from various locations around the world, included China Agricultural University, Zhejiang University, Zhejiang A&F University, Jiangnan University, South China Agricultural University, Shandong Agricultural University, Yangzhou University, and Northeast Agricultural University, China; Yamaguchi University, Japan; Cambridge University, UK; and Agriculture and Forestry University, Nepal.
Throughout the conference, attendees engaged with faculty and subject matter specialists from UC Davis, representing diverse fields such as microbiology, agricultural science, and veterinary science. These online lectures and Q&A sessions allowed students to engage with research in an interactive and collaborative setting.
Model of academic excellence
WIFSS One Health conferences teach the interconnection between people, animals, plants and their shared environment through lectures, panel discussions, team activities, and virtual field trips when on-site fields trips are not possible. The online conference featured faculty from the School of Veterinary Medicine, the departments of Plant Science, Land, Air and Water, Food Science and Technology, and Animal Sciences delivering live Zoom lectures on subjects as diverse as soil health, microbes and plant health, to the involvement of microbiome analysis in food safety research, primary care and preventive veterinary medicine education, and building capacity to prevent pandemics using a One Health approach.  Through this model participants get a broad perspective of One Health from the soil to the table as well as animal health.
Collaboration and interaction create ideal learning environment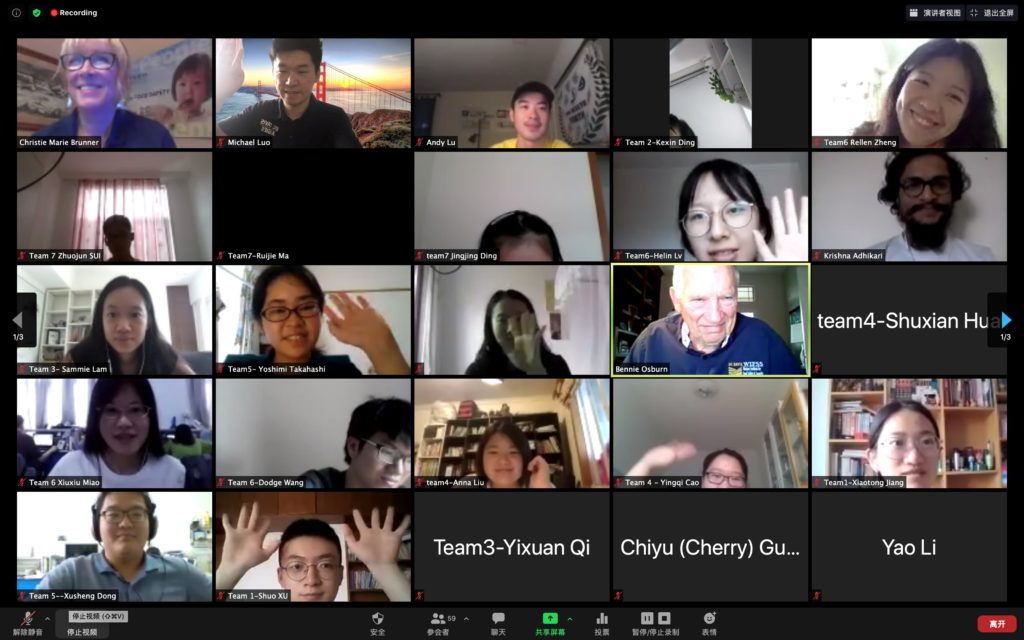 Though many online conferences can be considered isolated in nature, WIFSS emphasizes collaboration and interaction between attendees as a central theme. Our conferences have a three-fold mission to: 1) raise awareness 2) teach team building 3) and promote a call to action. Upon enrolling, participants are assigned to teams with complete strangers from different backgrounds. The team roster from this summer's conference illustrates the diversity in the fields of study and the balance between undergraduate and graduate students making up the teams JIANGSHAN, The Waves, Eureka, Rainbow Bridge, Esprit de Corps, Six Buddies, and Striving Dreamers. The conference was very fortunate to add 15 veterinary students after final registration comprising teams 8 and 9. By working together as a group through different discussions and activities, participants quickly learned how their field of study could contribute to solving a wide array of problems.
The unique schedule included morning session lectures, group reports, a virtual dairy tour, and UC Davis students talking about graduate education at UC Davis.  Afternoon sessions included group and panel discussions, reports by graduate students, and get togethers where attendees were randomly matched together for one-on-one conversations every 5 minutes at events called "cocktail parties." This allowed participants to interact with other students that they might not otherwise have a chance to meet.
Taotao (Andy) Lu, a WIFSS intern, served as a teaching assistant, moderator of lectures, and overall MC of the online conference. It was easy for Andy to identify with the participants of the conference and encourage them during afternoon sessions as he recalls with fond memory attending the 2018 Summer One Health conference as a student from Nanjing Agricultural University.  Andy returned to Davis entering the Masters of Preventive Veterinary Medicine Program, in the School of Veterinary Medicine last fall and is set to earn his MPVM degree in 2020 and will be proceeding in the graduate group of epidemiology (GGE) at UC Davis.
Team facilitators provided general guidance and each team elected a chairperson to conduct meetings. Facilitators helped engage their teams in discussions and in the meet and greet sessions with current UC Davis students.  During the Wheel of One Health gameshow, hosted by Cash Platinum and Sunny, where attendees could use their knowledge to answer trivia questions, facilitators encouraged their fellow team members in the friendly competition.  Team facilitator Dodge Wang spurred the Six Buddies on to win the virtual trophy.
A virtual dairy tour on the third day of the conference, led by Heather Johnson, instructional systems designer at WIFSS, and Dr. James Cullor, professor emeritus, captured the thrilling first-hand experience of a field trip by touring a dairy through a series of interactive video clips narrated by the presenters.
The conference culminated in presentations by seven teams, and an online virtual certificate ceremony, with certificates presented to 75 participants.  The team presentations tackled major problems facing the world today, including foodborne zoonotic diseases, flooding leading to a food crisis, One Health vs Salmonella, microplastic—the invisible killer, African Swine Fever, antimicrobial resistance, and illegal use of β2-agonists.
"I marvel at the topics that these students selected," Dr. Bennie Osburn, the director of the conference, noted. "The groups went through the complete cycle that we have outlined! They used this on a variety of issues or problems.  This strategy gave them the idea of how they can contribute to the overall objective of problem solving by integrating themselves or their discipline into the equation."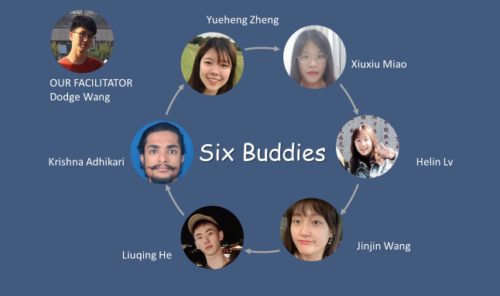 Though all groups excelled in their presentations, one group particularly caught Dr. Osburn's attention.
A case in point was the problem of microplastics given by team Six Buddies. They outlined 1) plans to raise awareness and get support; 2) plans to run a team, and involve stakeholders such as citizens, government agencies, factory owners, scientists, physicians, veterinarians, ecologists, food and materials scientists, and more; and 3) plans to develop what is needed to move forward in their call to action.  Six Buddies reasoned that healthy human-beings, healthy animals, and a non-polluted environment lead to a sustainable development goal.
Six Buddies put it this way, "Addressing such a tiny particle makes progress to such a huge world."
Lasting impact
Chris Brunner, communications and international programs director, who organized and managed the conference along with Michael Luo, education specialist and international programs coordinator, gave a call to action on the final day of the conference to, "Stay in touch with your team mates and build on your friendships." She encouraged them to follow through on their final presentation calls to action.  Many students are continuing to stay in touch through WeChat, for example team members of Six Buddies are calling for a meeting in person after the pandemic.  A member of team Eureka posted a story of her experiences at the conference on her Sam the Cam Vet Blog, UC Davis WIFSS One Health Food Systems Conference 2020.
The online conference concluded on July 31, but the effects of this rewarding experience will long be felt throughout the world. Like the One Health conferences before it, sponsored by WIFSS on-site at UC Davis, seeds have been planted that will slowly grow into mighty trees, spreading the foundations of One Health, collaboration, and problem-solving oriented approaches to problems plaguing our planet. Inspired through our conferences team building activities and calls to action, many grass-roots organizations have sprouted in international institutions, including student One Health clubs in China. Our conferences encourage the next generation of specialists, researches, and trainers to make a lasting difference in the global food system. Whether online or in-person, we will continue to inspire a better future through One Health.