Left to right Back Row: Maeli Melotto, Jorge Rodriguez, Bart Weimer, Bennie Osburn, Xingbin Liu, Chaoxi Luo, Bruno Chomel, Michele Jay-Russell, Phil Kass Left to Right Front Row: Sara Garcia, Lais Costa, Maurice Pitesky, Anjiang Ji, Lei E. Photo Credit: Heather Johnson
Mia Reyes, WIFSS Student Assistant
The Western Institute of Food Safety and Security (WIFSS) had the pleasure of welcoming Huazhong Agricultural University this past September. The visit aimed to unite the University of California Davis Veterinary School of Medicine (SVM) and the Huazhong Agricultural University toward the continuation of research in One Health for food safety and security across the two nations.
Hosted by The Office of Global Affairs, the delegation from the Huazhong Agricultural University included Xingbin Liu, Director for Administration Affairs at the College of Animal Sciences and Technology/College of Veterinary Medicine; Chaoxi Luo, Associate Dean for the College of Plant Science and Technology; and Anjiang Jin, Director of Administration Affairs, from the College of Biomedicine and Health. Director of Outreach and Training for WIFFS, Dr. Bennie Osburn and SVM and Chair of Population Health and Reproduction, Dr. Bart Weimer, had the pleasure of taking the delegation on a tour across the School of Veterinary Medicine, beginning with a tour of VetMed 3B. The visit consisted of a walking tour through SVM labroratories, lunch at the Scrubs Cafe, and a round table discussion with SVM faculty and researchers. With support from Dean Helene Dillard from College of Agriculture and Environmental Sciences, the delegation was able to further explore and discuss the agricultural advancements that UC Davis students and faculty have been working towards.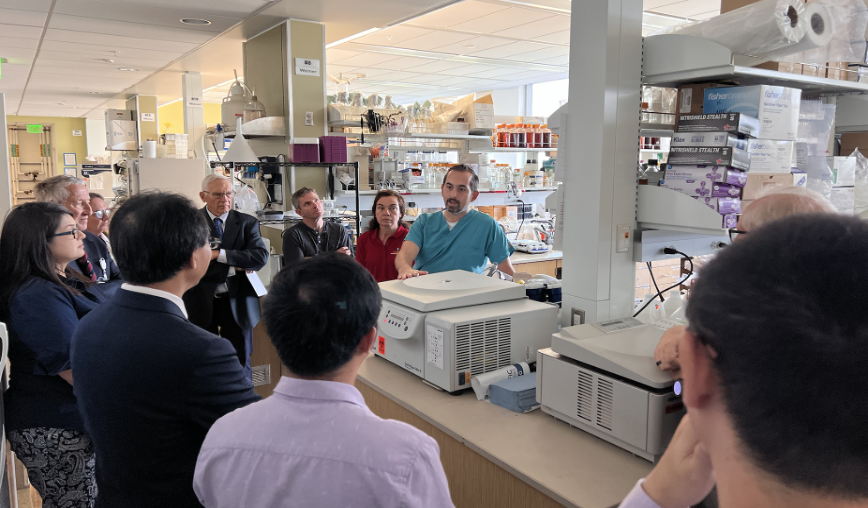 The goal of the visit was to fortify the relationship between the UC Davis School of Veterinary Medicine and Huazhong Agricultural University, with the highlight of the visit to discuss an effort for creating One Health Center at HZAU. Both universities are committed to supporting educational programs to build One Health competencies to advance global health at the interface of humans, animals, plants, and their shared environment through the development of One Health curriculums that integrate food systems and epidemiology. A bond between the Huazhong Agricultural University, the School of Veterinary Medicine and the Western Institute of Food Safety and Security, helps researchers and educators from their respective universities, better develop and use the One Health concept towards the advancement of human, animal, and plant health.
The visit was supported by SVM researchers and faculty including Dr. Bruno Chomel, Dr. Lais Rosa Rodrigues Costa, Dr. Sara Garcia, Dr. Michele Jay-Russell, Ms. Heather Johnson, Dr. Phil Kass, Dr. Yanhong Liu, Dr. Maeli Melotto, Dr. Maurice Pitesky, Dr. Jorge Rodriguez, Dr. Richard Pereira, and Dr. Jennifer Lane. The Western Institute of Food Safety and Security has had the pleasure of conducting eighteen conferences that include 3-week on-campus conferences at UC Davis, and 2-week online conferences that introduce the concept of One Health to undergraduate and graduate veterinary and agricultural sciences to nearly 1000 students from 21 different universities in China and Southeast Asia.