Ana Araujo, Goretti Alvarez and Maria Orozco – September 21, 2020
California's agricultural and food production workforce is diverse in language, culture, and education. Data from the American Community Survey (ACS) reports that 92 percent of people that make much of agricultural production possible are Latinx. Further ACS data shows that 77 percent of farmworkers are noncitizens and 78 percent lack a high school diploma or equivalent. Together these attributes can cause agricultural workers to struggle to find resources and information about farming practices, programs, marketing, food safety practices and regulations because most of this information is only available in English. Agricultural workers primarily speak Spanish, and though some agencies and programs for farmers have started providing some information in their native language, these translated resources are still lacking. Developing these will allow non-English-speaking individuals to feel comfortable in their work environment. As a result, agricultural workers will have easier access to quality training materials, leading to a better understanding of safety measures and their rights as employees.
Lack of Spanish language resources can put agricultural and food workers at risk. Limited access to quality training materials on research-based food safety practices can also put the public health at risk. Therefore, it is important at the Western Institute for Food Safety and Security (WIFSS) to increase access to educational materials for the safety of all Californians. WIFSS is a University of California, Davis program that serves the global community by conducting research, developing training, and providing outreach programs that focus on the safety and health of people, animals, and the environment. Ana Araujo, Goretti Alvarez, and Maria Orozco are student employees at WIFSS that worked together as a team to help translate the final Spanish version of the WIFSS FSMA-PSR course. However, their work goes beyond just translating, through the process they acquired software, graphic, and audio editing skills to build the training programs. This work is important because it allows access to training and other services in multiple languages that are supportive of increasing knowledge, safety and health.
"As a student employee at WIFSS, I believe we are making a positive change in helping non-English-speaking communities with an accessible language training program. This translation service helps to assist growers by increasing their awareness regarding risks of contamination of produce and public health protection in the language they understand. It is essential to ensure that socially disadvantaged farmers engage with the agriculture and food industry to gain access to resources that will help them meet regulations and improve their business practices. Like many immigrants, my parents also struggled to learn English, so at an early age my siblings and I had to translate documents to the best of our abilities. This method of translation assistance is not always reliable, but often occurs due to the lack of Spanish language information available." -Maria Orozco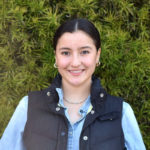 Maria Orozco Sustainable Agriculture and Food Systems, 2021
The 2020 Farmer Equity Report stated that socially disadvantaged farmers and ranchers are not likely to engage with traditional agricultural industry groups particularly if the meetings are held only in a language they do not speak or understand. Resources and programs only in English may interfere with the ability of growers and producers to step up to leadership positions and provide feedback about their experiences or improvements they would like to see. This could potentially misrepresent the needs of Spanish speaking workers by impacting them from receiving important information, policy and decision-making or having their voices included.
Our efforts to help California growers should result in a positive outcome for Spanish-speaking farmers and food processors across the state to comply with the FDA Food Safety Modernization Act (FSMA) rules and requirements. Farmers, growers, and food processors are the backbone of the food system. For them to do their jobs successfully, it is important that they understand changing safety rules. For instance, our teams have catered to our Spanish-speaking audiences by translating the FSMA Produce Safety Rule and the Food Defense training programs. Translating these programs into Spanish allows agricultural and food industry workers to have the same access to training like other workers across California. Together everyone can develop an increased awareness of food safety practices, which can lead to changes not only on farms but in consumers' lives.
"My experience growing up in a primarily Latino farming community and my parents' previous work in the agricultural industry has allowed me to see firsthand the positive impact the work being done at WIFSS can have not only on business and workers but the rest of the community. It is crucial that everyone in the farming, growing, and production process has access to the knowledge they need to do their jobs successfully and safely." -Goretti Alvarez
Goretti Alvarez Communication and Spanish double major, 2020
"As a student employee at WIFSS, I believe our work is creating a valuable impact in the achievement of safe and successful food production. Coming from one of the state's largest crop-growing regions, where my parents and I worked in the agricultural industry, gave me the opportunity to see the challenges workers and business owners experience as a result of language barriers and lack of resource accessibility. For this reason, my experience translating training programs and materials at WIFSS has been so rewarding, as we are working towards a positive change for the whole community" -Ana Araujo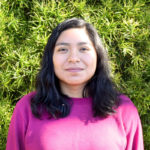 Ana Araujo Sociology, 2021