University of California's Western Institute for Food Safety & Security, WIFSS, has long worked with agriculture to prepare, respond, and recover from natural disasters.
Author: Michael Payne, DVM, Ph.D. University of California-School of Veterinary Medicine.
A magnitude 6.4 earthquake struck the extreme northern coast of California before dawn on Tuesday, damaging roads, bridges and power lines, and leaving some 70,000 residential and business customers without electricity.
During natural disasters like fires & floods, agricultural trade groups play a critical role in advising government agencies on what assistance is needed. Anja Raudabaugh, Chief Executive Officer of Western United Dairies directed her staff to contact each of their member dairies in the Humboldt County area.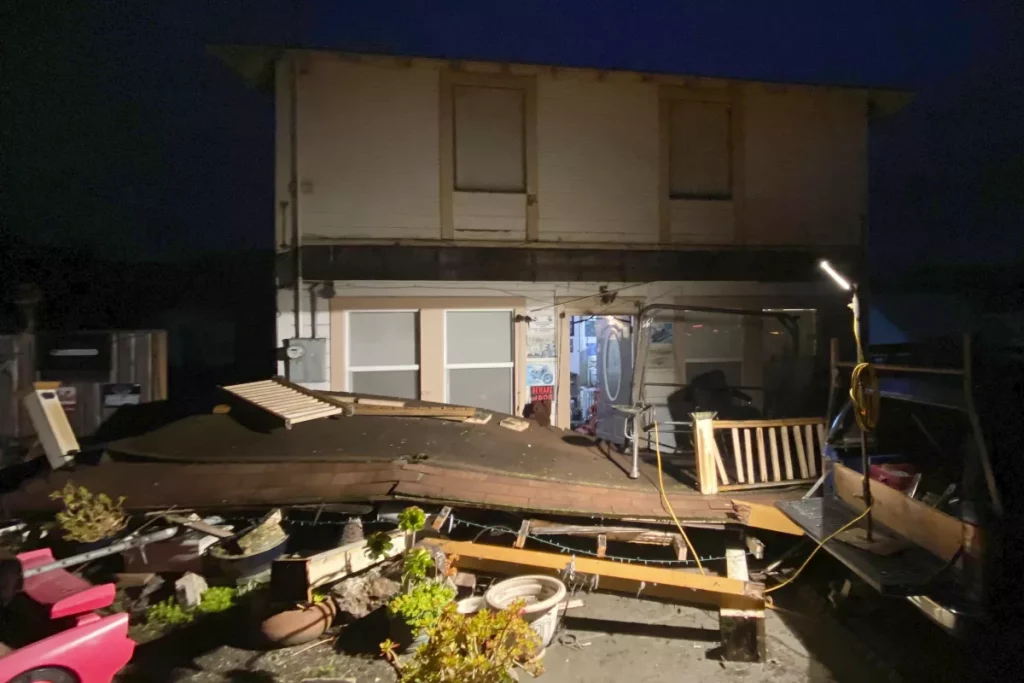 The dairy trade organization also began the process of documenting damage and loss information to assist the California Department of Food and Agriculture, CDFA, and the California Office of Emergency Services, Cal-OES, when disaster recovery funding become available. 
For more than 20 years the University of California's Western Institute for Food Safety and Security, WIFSS, has partnered with the ag industry, regulators and first responders to prepare, respond and recover from emergencies such as natural disasters and animal epidemics.
National Training Programs
Among the WIFSS in-person and on-line available courses is All Hazards Preparedness for Animals in Disasters, a training funded and certified by the U.S. Department of Homeland Security. This course lays out a coordinated framework which livestock producers and communities need, in order to be prepared for disasters. It also prepares those responsible for collecting the relevant data and information required by local, state and federal officials to make sure that the appropriate responses for recovery can get under way.
The course targets audiences comprised of livestock producers, emergency managers, veterinarians, extension agents, veterinary technicians, rural community leaders, public and human health personnel, fire and law enforcement. It provides them with tools to protect, respond to, and recover from the consequences of disasters involving animals in rural communities. This includes but isn't limited to fire, flood, heat, earthquake, tornadoes, hurricanes, hazardous material spills and catastrophic disease exposure.
Responding to Ag Emergencies Throughout the Years
This week WIFSS provided guidance to the dairy industry immediately following this week's North Coast earthquake. WIFSS, in partnership with the California Dairy Quality Assurance Program, CDQAP, and the California Dairy Research Foundation, CDRF, have provided Just-In-Time outreach for a variety of emergency situations facing livestock and poultry producers. 
☐ Flooding – In response to flooding events in 2017 and 2021 WIFSS worked in concert with industry and emergency response agencies to provide timely information. Subsequently this guidance was collected in the form of two full-color brochures, Flooding & Livestock Owners and Flooding and Equine Owners.
☐ Fires – Since 2017 WIFSS has worked with  industry and emergency response agencies to provide outreach to livestock producers related to wildfire. One popular YouTube video was Saving the Ranch: Wildfire Preparedness Tips from a Firefighter, Veterinarian and Ranch Owner. In collaboration with university and public health experts, WIFSS also developed outreach explaining how to mitigate the effects of wildfire smoke on both livestock and farm employees.
☐ Emergency Power – In the fall of 2019 California experienced the most geographically widespread and longest duration Public Safety Power Shutoffs (PSPS) in the state's history. Livestock and poultry operations depend on power for a range of critical operations including well pumping, feed processing, milking and fan cooling. WIFSS and CDQAP generated comprehensive outreach for farms dealing with unexpected power loss.
☐ Emergency Disposal of Milk – In 2020 the peak of the COVID supply chain disruption and employee illness necessitated disposal of milk that could not be processed or sold. WIFSS and CDQAP helped industry navigate regulatory challenges involving environmentally friendly best practices for emergency on-farm milk disposal. In 2022 similar outreach was again provided due to a mechanical failure at a processing plant in Northern California.
☐ Emergency Disposal of Livestock Mortalities – With natural disasters including fires, floods, heat events and animal pandemics, agriculture is sometimes faced with addressing unexpected mortalities. WIFSS & CDQAP have continued to work with industry and regulatory agencies to develop state-wide and county-by-county emergency carcass disposal plans.  In addition, in early 2022, WIFSS & CDQAP partnered with USDA, CDFA and the University of Maine to deliver a carcass compost training and demonstration.
☐ COVID & Farm Employee Health– Throughout the COVID pandemic WIFSS and CDQAP have partnered with university and public health agencies to collect and summarize constantly evolving recommendation and regulations. WIFSS outreach made accessible the complex torrent of information ranging from face coverings to vaccination.
☐ Daily Farm Biosecurity – WIFSS and CDQAP helped author and promote the national Dairy Farmers Assuring Responsible Management (FARM) program's first Everyday Biosecurity manual. The manual outlines small, routine steps dairy farmers can take to protect the health of their herds and employees.
☐ Emergency Farm Biosecurity – Partnering with USDA and CDFA, WIFSS has worked to help ensure business continuity during quarantines for animal epidemics such as Foot and Mouth Disease in cattle and Avian Influenza/Bird Flu in poultry. An Enhanced Biosecurity Plan Builder was published in 2022, and includes instructional videos, templates and links to additional resources.
☐ Farm Biosecurity for Community Colleges – Debuting in 2023 is an outreach program to continue the work of teaching the next generation of farmers. Partnering with Woodland Community College and San Joaquin Delta College WIFSS IS creating modules that complement existing courses on animal health and farm sanitation. Topics include introductions to biosecurity and the Secure Food Supply program, One Health and Biosecurity, and case study learning activities designed to give students a real-world appreciation for importance of biosecurity.
☐ Farm Security & Safety – Most farms have experienced some form of rural crime, including theft, trespass, vandalism, illegal dumping, clandestine drug labs, and even employee assault. To arm producers with the best preventative information, WIFSS & CDQAP teamed up with local, state, and federal law enforcement experts to deliver a comprehensive webinar and published highlights and a recording of the training. 
☐ Processor Cybersecurity – In 2022 several western dairy processors were victims of a ransomware attack, demanding payment in return for regaining control of their computer infrastructure. WIFSS & CDQAP convened a task force with cybersecurity experts from regional, state and federal agencies. The group met in person with California processors and the project culminated with a secure webinar.
For more information on WIFSS research and training contact Dr. Bennie Osburn at biosburn@ucdavis.edu
About the author
Dr. Michael Payne is the Dairy Outreach Coordinator for WIFSS and the Director of the California Dairy Quality Assurance Program (CDQAP).